We all have favourite animals. The cute, the funny, the clever... and the beautiful. One of my favourite animals is the tiger, because of its beauty and its courage.
I love everything about the tiger, from the cute cub that makes you go 'Awww...' to the beautiful, majestic creature that will live forever...
Wait - live forever? No way - not if humans have any say about it.
With less than 3200 tigers - of all breeds - left in the wild, tigers are one of the fastest disappearing species in the world. Already many subspecies have gone extinct.
Now, I want you to scroll through these pictures, and think to yourself: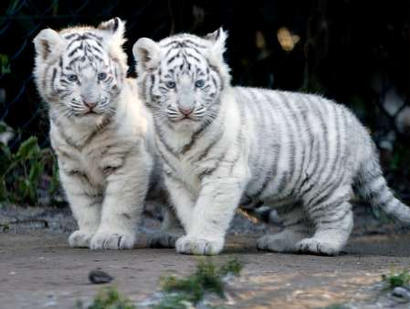 If we ignore this problem, simply go on with our lives, this whole species will just... disappear. Gone forever - it won't come back.
So, I want to save the tigers, because if I don't, nobody will. But how do I go about saving a whole species?
Easy. Here's some ideas...
F
undraise. As a school, as a business, as a community. Sell cakes, chocolate, anything!
O
nly eat palm oil free food, or at least try to cut back on your intake so tigers have a home.Raise awareness! Posters. Emails. Facebook. YouTube. Blogs. Forums. Businesses.
T
ell somebody. Its too big a problem to tackle by yourself!
H
elp everyone you can. It is only when we work together that we can save the tigers!
E
ncourage your friends to help. Its fun and makes you feel good.
T

oday. Now. That's when to start. Don't delay, don't procrastinate.


I

nformation is important. Load your mind before taking action.


G

et together to design, plan and make a difference.


E

veryone has a talent - use yours! Are you musical? Put on a show! Artist? Paint!


R

eceivers of your raised funds - who will you support?


S

ponsors - get local businesses behind you to make a huge difference.
Because they need YOU.